Current Mood:

silly

I know some of my friends are going through a rough time with losing loved ones and I know I haven't been around to offer however small and meaningless a word of comfort, and I'm sorry for that, even though in all honesty you're not missing out on much. I don't really know what to say about these things to you or to myself. When the one person who meant the world to me died and I got the phonecall, I went in the other room, turned my computer on and watched The Lord of the Rings trilogy for 10 hours straight. I fell asleep.

I know you are strong and beautiful because your mothers and grandmothers made you that way and everything they've given you will help a lot from now on. So however you react or whatever it is you do for the next 10 hours or 10 days or 10 years, I hope you're good to yourself and focus on what it is about the person you've lost that helps you draw strenght.
The Cheek Monster is sick. She's had a complication to a common cold and because her lungs are tiny, she couldn't breathe so they took her to the ICU. She's fine now and eating and breathing right, back to just a nasty cold, but she still breaks my heart because she's a helpless cub who doesn't understand what's going on. I need her to go back to being a happy chipmunk: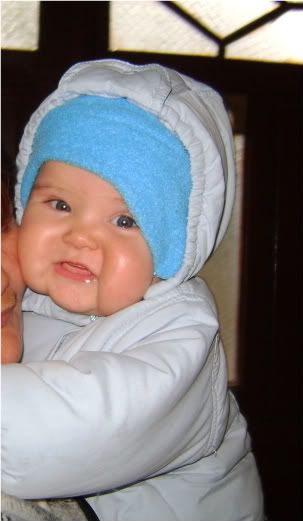 I mean... her first birthday is coming up soon. I need to spoil her rotten.
I'm mostly a ghost on LJ and I know it, but LJ is not an easy site to keep up with so I chicken out and give up alltogether for a while cause I feel like if I can't do it right and be here if you need me, why do it at all? I'm going to be better about it when I have more time. 24 is decent this season so I might just HAVE to make the occasional comment about Jack and Renee and fun with battery acid in bed.
Current Mood:

hopeful

I've been trying to sleep off my holidays and I wasn't even going to actually watch more than the premiere of 24. And then I was kinda hooked, gave in and watched all of season 7 (so far) last night.

I was so bummed about Methos (possibly) biting it because... well... he's MUTHAFUKINMETHOS and Peter Wingfield just makes ANYTHING automatically, undeniably and unbearably COOL. If they cast him on Lost I'd even do crazy things like watch that show again just for him.
I'm not even going to bother with Tony being alive because... well... this show IS ridiculous and it was an excuse to bring Methos on board so whatevs. I'm digging the Future Mrs. Jack Bauer, she's got balls AND freckles and red hair and can't wait to ride Jack Bauer like a pony, you can see it everytime her fugly FBI boyfriend tugs on her chain and she's like: "Fuck that, I don't want to be an FBI goodietwoshoes, I want to torture terrorists and have Jack Bauer slam me hard against flat surfaces." I laughed so hard at Chloe vs. Garofalo, that's this show's version of wet tshirt mudwrestling in the jungle. The. server. will. rumble. Also? "You looked good though." I missed Chloe and her personality disorder.
Current Mood:

mischievous


Seriously people, I know Kracow is THE tourism hotspot of this country and it is certainly beautiful and worth a visit, but if you ever make it to Poland, you HAVE to stop by in Wroclaw. Of course, I've had the privilege to get a detailed tour around the city from an architect and also the best host anybody could wish for, but even if you're not that lucky, there's no escaping the atmosphere, diversity and general coolness of this lovely city. papper_docka has exquisite taste and not only in men ;) so you'll eventually see pictures of buildings and places she's shown me, but that's for when I get home.

Oh and also? She was kind enough to show me some bellydancing moves last night and yes, I did flop around like a big stork, but that was half the fun. There's a first time for everything.
I'm leaving Wroclaw and already getting nostalgic.
Current Mood:

nostalgic
1. I love
Big Bang Theory
like crazy. What I loved even more was watching it together with
marzycielka
and quoting random episodes while walking in Krakow.
2. Speaking of which, this is an absolutely lovely city and we spent the whole day today doing what I love to do most when I'm in a new place, ie just walk around and take in the sights. We had indian food for dinner and it turns out
papper_docka
likes it, so I've been nagging her about cooking for her for a while now, I think she's sick of the hype by now. She's so awesome though, I can't help it if I just want to feed her and make her happy.
3. I was going to post more pictures of Krakow with its enchanting churches and castels and towers and sinagogues and lovely buildings, but they're big and most of them you can find on google images. Not this one though. It's erm... sort of NWS.
(
This is the art in our
Collapse
)
Current Mood:

cheerful


I'm the pathetic kind of drunk that can still touchtype in the dark (I'm only physically drunk), but still... I love Poland! So much. I just bowled and then went clubbing with an olympic champion (Simon Amann, aka Harry Potter). Which was... nice... but papper_docka and I both decided we need to be groupies for a manly man sport where the men are manly and have huge shoulders and are taller than we are. Australia, here we come!
I have NEVER been this drunk in my life.

I'm going to Poland tomorrow.

This is mostly going to be a travelogue from now on and at least until Mad Men returns or I get the sudden itch to actually write about a sitcom or the return of 24, there isn't going to be any TV talk, which you're better off without anyway. If that's not your cup of tea and that's all we ever had in common, you're under no obligation to clutter your flist with me.

I'll try to provide as many pictures as possible for those who are interested, but I can't promise anything about comments. I still have to pack tonight so that's out of the question for this entry.

Fingers crossed for lots of snow in Zakopane.
Current Mood:

calm

...I'm now going to (sort of) let you decide my next travel adventure.

I'm getting itchy with excitement about the Poland (& Czech Republic) trip (OMG, ten days!), but the hobo demon inside me is already planning my Birthday Adventure. I've literally spent the whole day planning and scheming, but I'm still left with two itineraries, both wtih pros and cons.
In the red corner we have Cape Verde. Huh? EXACTLY. That's the kind of travel I want to do. I'd fly to Spain first, either Barcelona or Valencia, so I'd need a couple of days for those cities and onto Lisbon from there. I've always wanted to go to Portugal so it's just as well that TAP Portugal is one of the few airlines with regular flights to Cape Verde, the tiny islands in the Atlantic Ocean off the coast of Senegal. It's remote, it's beautiful, it's confusing and I don't know if I can island hop enough in one week, but I'd sure like to try.

In the blue corner, we have... well... Malta as the end destination, but I'd fly to Venice first, explore Italy on my way to Rome, fly to Malta and back and then if I can abstain from also going to Croatia and Bosnia from there, go back home I guess. I don't like this version because those countries need a lot more time than I can give them this spring, but it's the less expensive, safer (as in, I can always hop on the next plane cause I'm not in the middle of nowhere) destination. Plus... you know... Malta! And Venice.

Pick an island for me, flist!
Current Mood:

restless
Current Mood:

content